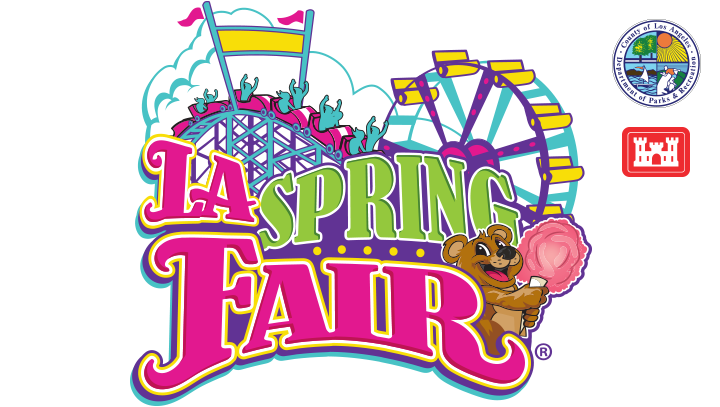 April 3-12, 2020
FRI: 5-11PM • SAT: 2-11PM
SUN: 2-10PM •TUES-THU: 5-10PM
OPEN EASTER SUNDAY.
La Prada Event Plaza (Whittier Narrows Park, South El Monte, California)
NO OPEN TOED SHOES.
Largest Spring Festival in Los Angeles County, 12 acres of 23 Kids and Adults amusement rides, live music (on Sat. and Sun.), circus attraction, games, arts & crafts, and international food court.
A one price admission ($15 on Tues.-Fri. / $20 Sat.-Sun.) allows the fair goer to ride all the rides UNLIMITED and see the live entertainment and shows FREE.
FREE PARKING!
An entertaining family event where you can bring the whole family.
CIRCUS ATTRACTION SHOWTIMES (included in admission price):
Weekdays (Tues./Wed./Thurs./Fri.): 6:30PM and 8:30PM
Weekends (Sat./Sun.): 4:15PM, 6PM and 8:30PM.
TAKE A PHOTO WITH THE EASTER BUNNY FOR FREE ON APRIL 11-12, 2020 FROM 2-7PM.
Kids can can meet the Easter Bunny and have pictures taken with him at the LA Spring Fair. 
Bring your own camera for photos with the Easter Bunny.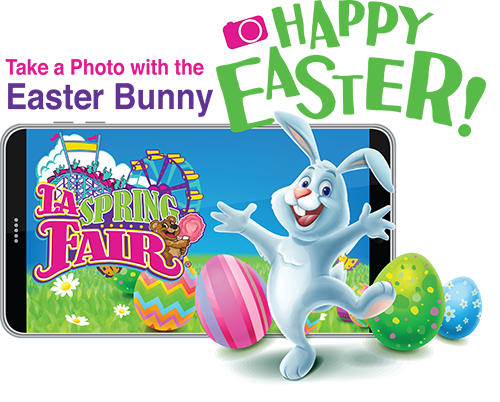 All carnival rides, shows and concerts in the park are FREE with admission.
Admission is ONLY $15 per person (Tues.-Fri.) or $20 per person (Sat.-Sun.).
Children under 36" are FREE! Parking is FREE!

DISCLAIMER: Anyone who wants to ride a ride MUST have a paid admission wristband.
If you have a child under 36" inches who wants to ride the Merry-Go-Round and Turtle Race rides you MUST pay a $5 admission price.

TICKETS AVAILABLE onsite at the box office the day of the event.
Additional attractions not part of the carnival:
Pony rides extra ($5). Eurobungee attraction extra. 5D simulation rides extra ($5). Rock Climbing Wall extra.
FACEBOOK EVENT PAGE | EVENT MAP/DIRECTIONS | VENDOR APPLICATION